The primary aim of a website design and development service is to create a practical and responsive design for the best user experience. Anika digital is one of the major web design and development companies in UK. Our ultimate goal is to provide you with exceptional quality and service. 
For us, the primary aim is clients' satisfaction and long-term working relationship.
Website Design & Development
Create Beautiful & Interactive Website 
Anika digital has a marvelous and skillful team that provides the best website design services. We aim to create websites that help our client's businesses progress. With the help of our hardworking team of web designers and developers, we make sure to create a 24/7 functional website. Our eye-catching websites are always crafted to the client's requirements and needs. 
Things We Consider Building Website 
Choosing the best web designing and development service helps in the website's functionality, easy navigation, and coding integrity. Our team works together to make sure your website is search engine optimized and converts efficiently. But this whole process isn't as easy as it sounds. There are few things we consider while designing the website. 
Define the Targeted Audience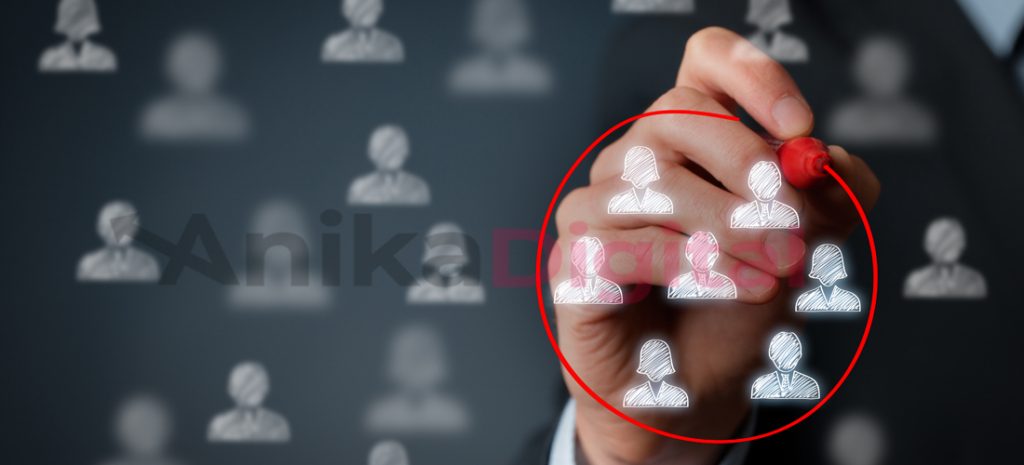 Great marketing always starts and ends with the audience. The key for great conversions solely depends upon marketing the right audience. A focus on a defined audience helps in reducing unnecessary traffic. It also helps in targeting the right traffic for website messages, promotions and content.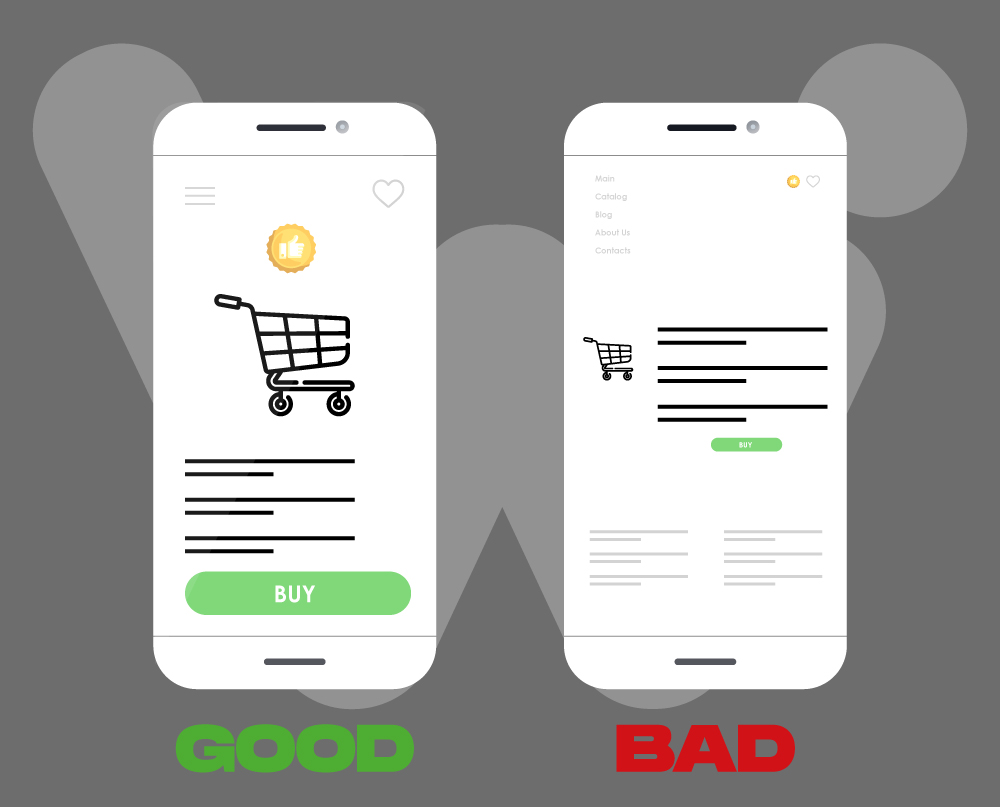 In this digital era, mobile phones are just as significant as desktop computers. A good website must be mobile friendly as well. 
A website's information, including pictures, texts, videos, and links, should be easily accessible through different platforms, including smaller screens like mobile phones and tablets. 
Web designing and development services help in improving the flexibility of websites. Flexible websites automatically adapt to every screen size. It makes web designers and developers jobs more manageable. As they only have to work on one version of the website. 
A few years ago, web designers preferred a fixed website layout as its design doesn't break and content doesn't flow. But, with the emergence of mobile phones, the flexible website started becoming more popular and functional. 
The Internet is becoming a dangerous place day by day. These days' website hacking, server attacks are expected. There are many examples of passwords, credit card details and other personal information being leaked to public platforms. 
A secured website saves you from all such hassles. Adequate website security includes the policies for creating and changing passwords, client-side coding and web server configuration. 
The colour concept or theory is to design the website's colour combinations based on complementation, contrast, and vibrancy. 
The selected colour scheme should complement each other. It should give a smooth feel to the website. Contrast helps clearly define the elements on the webpage. It takes away the strain from the user's eyes. The most effective selection of contrast is to choose the background and text colour efficiently. 
Vibrancy depicts the mood of the website. A darker colour scheme relaxes the user, while a bright over the top design can be an overwhelming experience. 
An SEO friendly website is designed to be easily indexed and accessed by search engines. It is important for a website as it gets more traffic than non SEO websites. 
A good ranking in search engines is highly crucial for your business. We deploy Web design and development services like SEO, CMS, website application development to cater to your needs and help your business grow. 
Responsive Website Design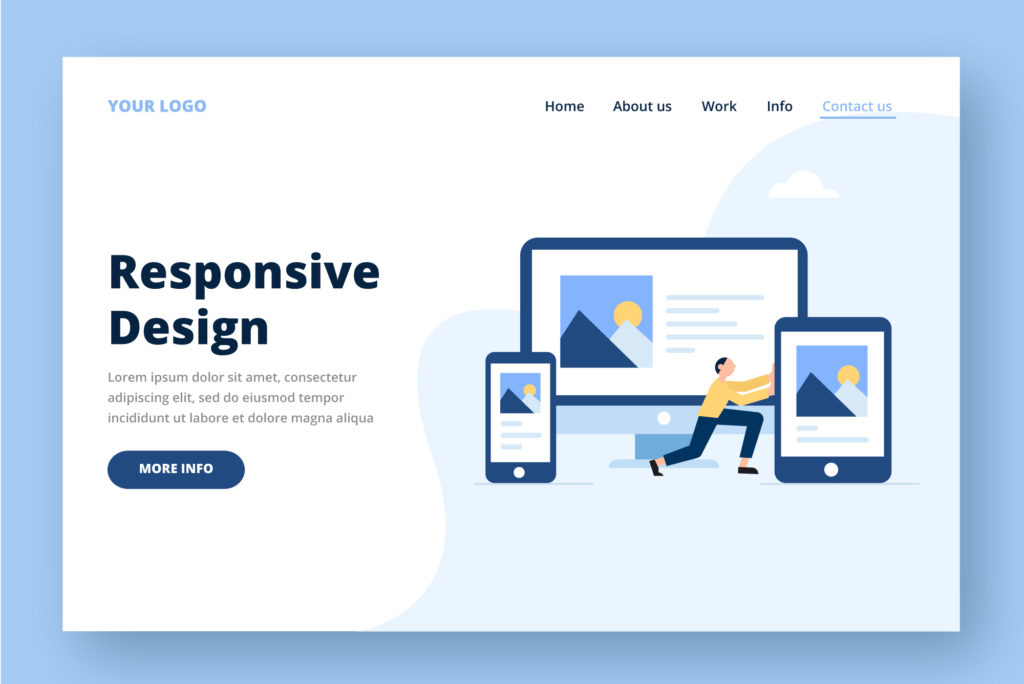 An adaptive and responsive web design provides an enhanced user experience. It also aids in a better ranking in search engines. Such website design would show the same information, images and texts on each screen irrespective of its size. This flexibility of the design makes it more accessible and user-friendly. 
Our Website Design & Development Process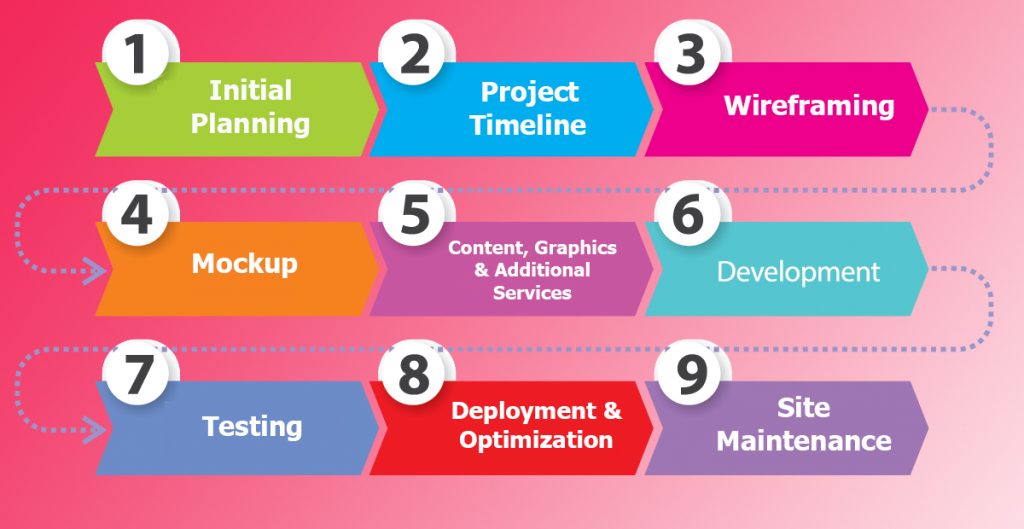 We aim to design websites with the sole intent of satisfying our customer's needs. Our well-structured web designing and development process helps to create excellent websites.  
Initial Planning 
During phase 1 of our designing process, we create a road map for the rest of the project. We discuss the website's appearance, style, and branding with our clients in the initial planning. We make sure to keep you on board while planning each detail of your website. 
Project Timeline  
As a website design and development service, we believe in proper planning before the implementation. A well-planned user interface shows the quality of its design. It is always good to follow a proper project timeline. We make small milestones and goals and ensure to hit them while we move to the next step. We call this phased approach a project timeline. 
Wireframing 
Wireframes are the first visualization of a website. It helps in understanding the overall appearance and functionality of the website. It is more like a sneak peek of the website that helps in imagining the final product. Our skilled web designers draw an overview to show the structure and flow of possible design solutions. 
Mockup 
Once the wireframes are approved, the next step is the designing of a website mock-up. It is like a graphic image, a picture of the future site. We add colours and more details in the initial wireframe that helps in creating a clearer picture of the final product. After a brief discussion about the final look, we make further changes and amendments. 
Content, Graphics & Additional Services
Once the website mockup is approved, we start working on two stages of web development simultaneously. Our expert web designer would start collecting the best-written content and graphics required for the website. 
During the second stage we work on SEO (Search Engine Optimization) and social media services. 
Our team would start keyword researching and social media branding. The main focus of a good web design and development service is to cater to clients' needs. Although we do not provide content writing and SEO service in the process, we can arrange it for the clients separately. 
Development 
During the web designing process, phases 5 and 6 work simultaneously. On one hand, our team is busy gathering the content and graphics, while on the other hand, our technical team would start deploying a content management system (CMS). Our web designers would start working on customizing the page designs. They would also set up the website analytics for better marketing. 
Testing 
Once everything is well designed and ready, our quality assurance team comes into action. It is the time when we test the performance of your website. Our team examines the user experience, speed and reliability. The website is run on multiple web browsers to ensure its proper working. It is also run on desktop computers and mobile phones. 
Deployment & Optimization 
Once our quality assurance team approves the website, the next step is deployment. We deploy the website on your public domain. For the best user experience, we offer monthly support packages to match your requirement. The main elements to consider are regular backups, frequency of updates and security maintenance.  
Site Maintenance 
We take responsibility for your website even after its launch. Our expert team is always here to help. We provide 14 days of support for bugs and error fixing. 
Website Design and Development Cost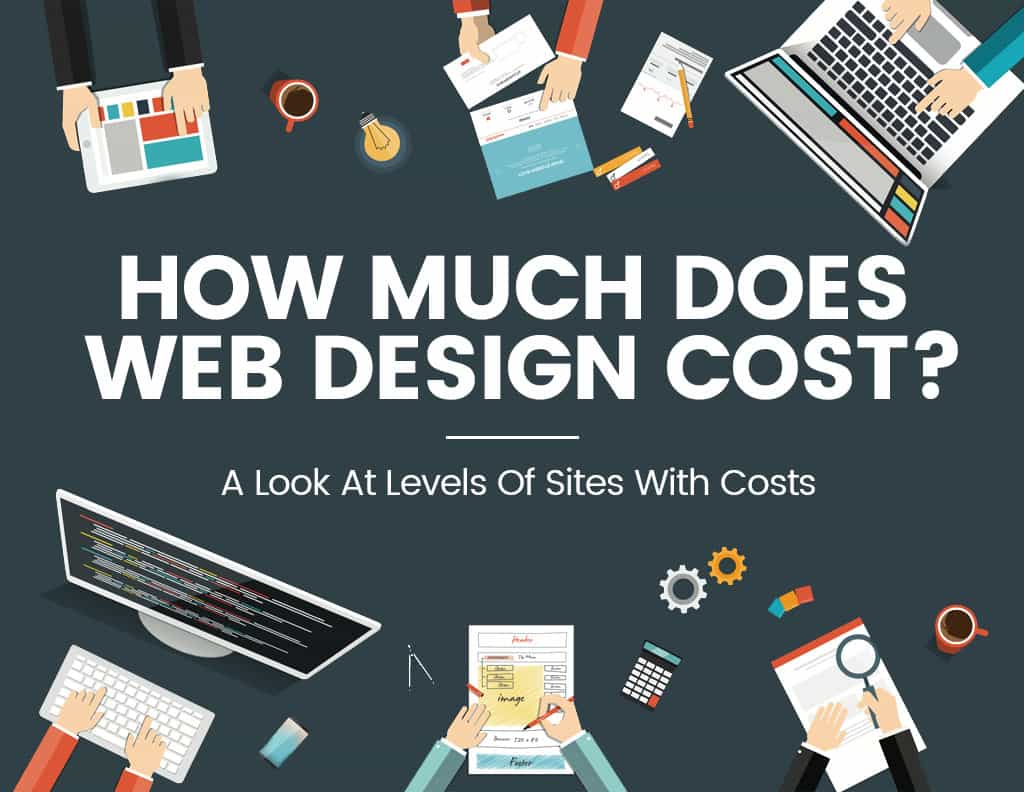 A good website design makes a significant impact on your business. It can help you in making more profit and grow further. It is always advisable to discuss your marketing strategy with your website design and development service provider for better understanding. 
Several factors determine the productivity of a website. Deciding between custom web design and template websites is one of them. Both have their pros and cons but the main factor to consider is cost-effectiveness.  
Existing Template Modification 
Choosing an exciting website template is advisable if you have a low budget and want an eye-catching and productive website. The template web designs are developed in a short time span. It is easy to create, and even a person with no HTML or CSS knowledge can create it. 
A template website is never unique. There is an excellent chance that your competitors also have the same design. Having a typical design would leave your website looking like a rip-off, and you will fail to create a professional first impression. 
They also have a poor ranking in search engines and lack the personalized element of a website. Such websites are suitable for people who have a tight budget, and they require a simple website. 
Custom build website 
In todays' saturated web environment, it is great to have a website design that lets you stand out in the crowd. A custom build website will always be distinctive, and it would help showcase your uniqueness to the clients. 
Custom made websites can easily be search engine optimized. They are highly individualized and help you in adding your company's branding to the website. 
The additional web design and development service CMS (content management system) makes it more adaptable. Your website data can be accessed and changed by you from anywhere in the world. 
 A custom-built website can be costly. Secondly, due to complex and time-consuming processes, custom build websites take longer to design than template-based web design.
The final decision of choosing the web design is up to you. The selection and application all come down to your business needs and requirements. 
Web Design and Development FAQ
Most frequently asked questions and answers for website design & development